This year's Valentine's day was not only about spending time with the loved ones. At Truetzschler it was time to invest in the future. Therefore, 23 students from different schools in Moenchengladbach came around to learn about the tasks and demands on engineers in textile machine engineering.
How do I become an engineer at Truetzschler?
What are the different tasks of an engineer? Which skills and interests do I need for the job? Do I have to study at a university or are there any alternatives? What perspectives do I have working in a family business in the metal and electrical industry? Those and many more questions were answered at the "Business Day Engineering". Students who are interested in working in (textile) engineering got the chance to spend the morning at our headquarter in Moenchengladbach. After providing some general information about the company, our different business units and locations, we told our guests about the options they have after having finished school. To make the information more lively, we asked some of our young students and employees to report from their perspective.
Beside 11 individual apprenticeships in four different areas, we offer a dual study program called "KIA". This cooperative engineering training consists of a practical apprenticeship at Truetzschler, combined with a university degree of the University of Applied Sciences in Krefeld. Students undergo two phases. Henrik Klaassen and Matteo Manek are currently in the first stage of their dual studies. Within the first three years they spend three days working in the company and two days at the university. Not only does the KIA program efficiently shorten the training duration, it also provides a great deal of practical experience. 
After having finished the first phase you are a real full-time student. Only during semester break, students work at the company to handle some independent projects. From designing new transport trolleys for the electronics department to adjusting the appearance and functioning of a new product – Stefan Dammer and Andreas Muyres carried out a lot of hands-on projects during their dual studies. The two of them are currently in the final stage of their education and are about to write their bachelor's theses this summer.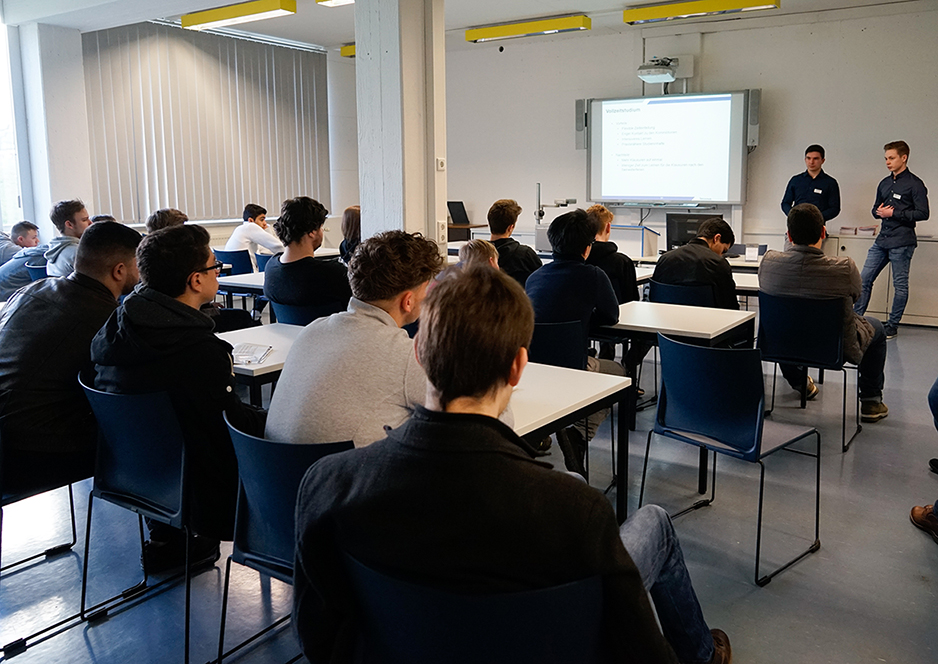 Tour through technical centre and training workshop
In the technical centre our young employees showed the pupils our different machine types and explained how each one processes the fibres. Afterwards they visited the sheet metal production to demonstrate how the individual parts of the machines are being produced. To show where Truetzschler students spend a big amount of time, the training workshop was the next stop. Especially the 3D printer aroused the interest of our guests.
Managing efficiency
As a "manager for efficient processes", Niclas Maasackers is part of several different applications.  From international production processes to quality assurance and factory planning – his fields of application are versatile. Since he successfully completed his dual studies in engineering and industrial engineering, Niclas works in the production area at Truetzschler. During his studies he enjoyed being coached very well by a mentor of the company. Another aspect he valued is that Truetzschler gives engineer students the special chance to implement and realize their own individual ideas, for example as a final dissertation.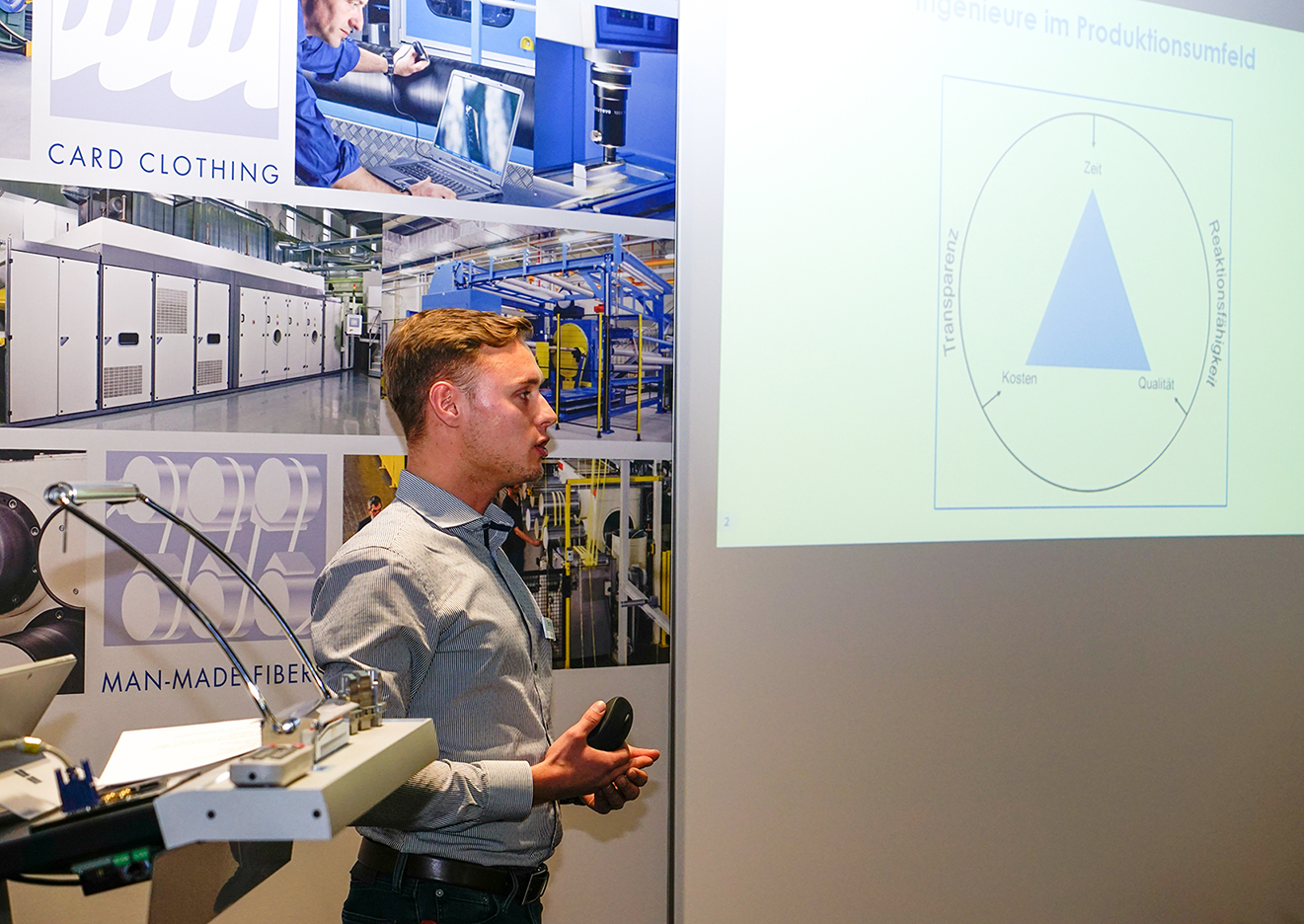 From the idea to the finished product
Britta Luestraeten introduced the students to the work of a development engineer in mechanical construction. Therefore, she explained the winding machine TSL 12 – from the idea to the finished product. Her work is very diverse, because creating a machine requires passing different phases like competition analysis, product requirements, concept creation and construction.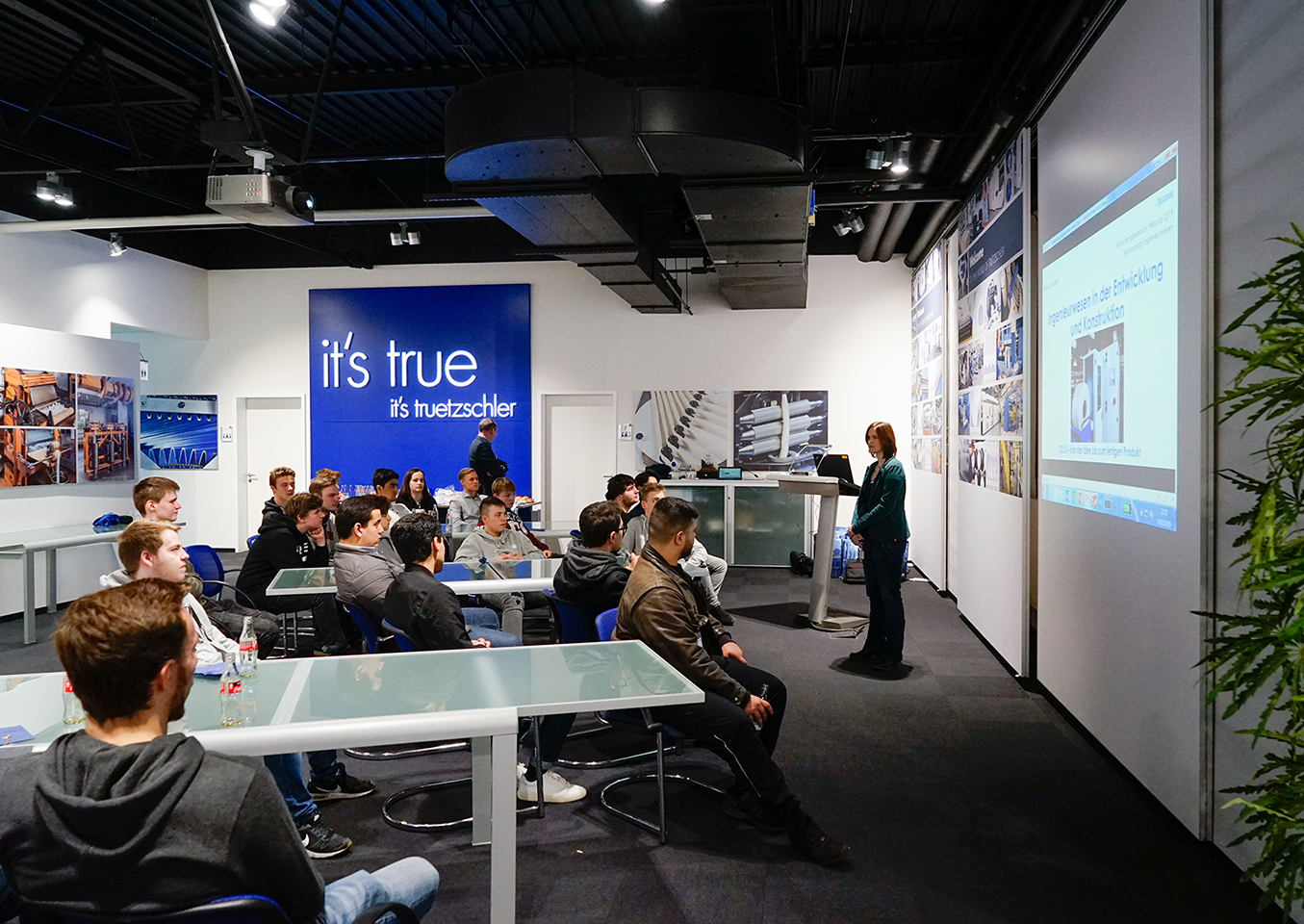 Thank you!
We were very happy with the great interest in the event and are looking forward to see some of our guests again in our training workshop. Many thanks to our partners Agentur für Arbeit Mönchengladbach, MGconnect and ZDI Zentrum Mönchengladbach for this successful event and to our colleagues for their valuable insights.