Let's be honest! How many times have you clicked the "forgot password"-button because you mixed up different log-ins from all your apps and accounts? A lot? We must admit: Us, too! That's why we developed My Identity here at Truetzschler.
Register once and use one login for every digital service
With our global Identity and Access Management My Identity, we can provide customers and partners a single digital identity to access all online applications and services provided by Truetzschler. From now on you don't have to guess for your different passwords anymore.
By clicking on the play button you accept YouTube's privacy policy. More information can be found here: Google – Privacy & Terms.
My Identity is the door to Truetzschler's digital world and …
…can be used with all new applications
Register once in My Identity. You can use your credentials to log-in to all new Trützschler applications like My Shop, which offers the possibility to order selected parts of our machines and components online, or My Wires, our new application for digital wire management. In the future, other platforms and systems by Truetzschler will be integrated in the My Identity circle.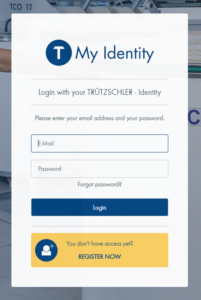 …puts you in control of your data
You are the owner of your data and you will control what data will be used in our application. Account and profile management give you full transparency when you last logged in with My Identity.
…provides a high security standard
We place great value on safety. For this reason, My Identity provides the highest security standard possible. All data storages are securely encrypted.
Let's test it!
My Identity is constantly monitored and checked by external institutions. Recently, the system was awarded with a certificate by SySS GmbH, a German IT company. An automated vulnerability scanner as well as manual tests conducted by experts provided black and white evidence: Our security level was classified as high!